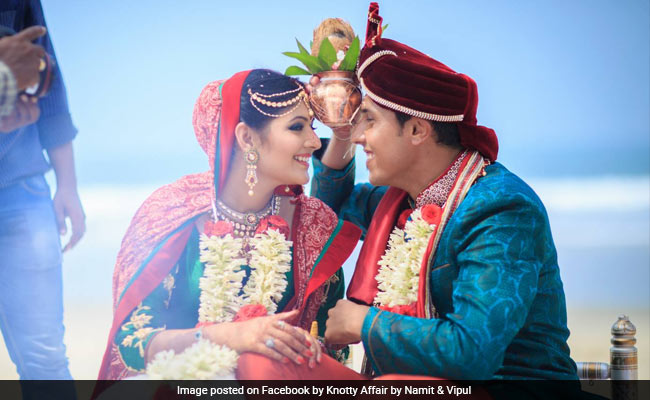 NEW DELHI:  Ankita Agarwal and Faiz Rehman met each other while pursuing MBA at the Indian Institute of Management, and, in their own words, it was love at first sight. Ever since that, the two have given us relationship goals every step of the way. The fact that they came from different religious backgrounds, and that Ankita's family initially disapproved of the match, were just obstacles to be overcome. Here's how their Bollywood-style love story unfolded.
After two year of trying to convince her parents, Ankita decided it was time for some drastic action. And that's how Faiz met Ankita's family for the first time. In the bride's own words, here's what happened:
"The boyfriend, unannounced rings my doorbell, taking my Papa completely by surprise… I was terrified, but knew that we could not have postponed this further. Then there was a long monologue by my boyfriend – explaining how he will not convert my religion or change my name or make me eat non-veg or make me follow his culture or make me wear a burkha or marry anyone else or whatever other doubts my parents expressed in the last 2 years."
Ankita's family was concerned about the fact that Islam allows men to have four marriages. To put all their doubts to rest, Faiz decided to marry Ankita… four times!
They first got married on February 17, 2015, in a simple ceremony at a Ram Mandir in Mumbai. This simple exchange of varmalas was followed by a court marriage under the Special Marriage Act. The Act does not allow Muslim men to marry four times.
The feisty couple then decided to have a destination wedding – complete with a traditional Muslim nikaah and a Hindu ceremony – in Goa!
And so, the nikaah took place in Goa with 60 of the couple's closest friends and family members in attendance.
Their wedding(s) finally culminated with a traditional Hindu ceremony, complete with the saat pheras.
After two years, Ankita's family has now grown to love Faiz. Read more about their fabulous weddings on Ankita's blog here.
Definitely a match that was meant to be, isn't it?