WASHINGTON, D.C. (TIP): Interfaith Marriages was announced as a winner of the 2022 Wedding Wire Couples' Choice Awards®, an accolade representing the top wedding professionals across the board in quality, service, responsiveness, and professionalism reviewed by couples on Wedding Wire, a leading wedding vendor marketplace.
14th Annual Couples' Choice Awards Honor the Top Wedding Vendors Nationwide and Abroad.
Interfaith Marriages Named Winner in 2022 WeddingWire Couples' Choice Awards®
TIP Bureau
Published by The Indian Panorama
To determine these distinguished wedding professionals, Wedding Wire analyzed reviews within its Vendor Directory across more than 20 service categories—from venues and caterers to florists and photographers—to find the most- and highest-rated vendors of the year. The winners exhibit superior professionalism, responsiveness, service, and quality when interacting with the millions of couples who turn to WeddingWire to help with their wedding planning process each month.
Wedding professionals who win WeddingWire Couple's Choice Awards® are members of Wedding Pro, a leading B2B wedding brand. A marketplace and community for wedding professionals, Wedding Pro connects businesses with more than 13 million unique monthly visitors who are planning weddings on Wedding Wire and The Knot, as well as with hundreds of thousands of pros in the industry. Through its online marketplaces, educational programs, and community-building events, Wedding Pro is dedicated to helping wedding professionals build relationships with couples and pros that grow their businesses. Interfaith Marriages is honored to be one of the top vendors in Officiant in Washington on Wedding Wire.
About Interfaith Marriages
Interfaith Marriages is a wedding officiant service based in Washington, DC. Dr. Mike Ghouse, the company's owner, is a member of the American Marriage Ministries. Which specializes in marrying couples of different religions. He adopts an open approach to creating ceremonies by blending each partner's traditions. Whether they are Muslim, Jewish, Christian, Buddhist, Hindu, or non-religious. Mike believes in curating a meaningful experience for all couples who commit to one another.
Services Offered by Mike Ghouse
Interfaith Marriages dedicated to curating memorable nuptials that celebrate the love shared between two PRESS RELEASE partners. Mike's process begins with a consultation where he can learn about the couple and their story, religious backgrounds, and vision for their ceremony. He is happy to incorporate special readings, blessings, or traditions into the nuptials, or create something completely unique. Before the wedding day, the future spouses can finalize any details they would like to include in their service.
Mike Ghouse says: "Marriage is the most important milestone of your love relationship, indeed. It expresses a commitment to the connection between you two. When you take the bold step to become one regardless of your origins, faiths, races, cultures, and ethnicities. You must appreciate and applaud. You are setting a new standard on how to live-in harmony despite your inherent differences. They are practicing genuine pluralism, i.e., respecting the otherness of the other and accepting the given (God/Nature) uniqueness.
 Marriage is a union of two individuals for happiness and harmonious living.
"Every living organism has a built-in GPS that brings two individuals together, and from a religious perspective, it is the creator who puts love between two individuals.
"I bless to have officiated secular and religious ceremonies incorporating both the couple's traditions with their respective input and final approval. Whether it is Jewish-Christian, Hindu-Christian, Bahai-Jewish, Hindu Jewish, Atheist-Jain, or other combinations, the bride and groom and their families feel elated and enjoy the sense of marriage in full.
"As an Indian American, it has been my pleasure to have officiated weddings amongst Hindus, Christians, and Muslims in various combinations. We can customize the wedding with the bride and groom's input, including their family traditions."
Congratulations to Interfaith Marriages for winning the award, and we decided to interview the winner and what is behind it. Interfaith marriages are becoming common, people from different faiths are marrying each other, and they are finding it difficult to find clergy to officiate the wedding, as they insist on converting the other. Given this situation, we found it interesting that there are organizations that are officiating such weddings.
 How do you get the parents to agree to get their kids married without converting?
Ghouse responded, "As a Pluralist. I believe all religions are beautiful and are designed to create secure societies for every living being. The idea of converting the other assumes that the other's faith is somehow less than yours, and that is wrong. No faith is superior to the other, each faith does its work for its believer. We talk about the essence of both their faiths. When the parents see the essence is the same but rituals are different. They lean towards the idea of interfaith marriage and we go from there."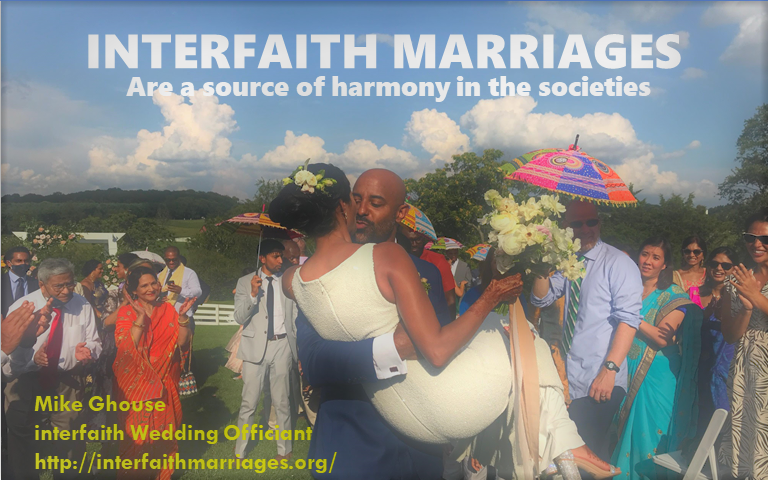 What is your most rewarding wedding?
"The most joyous wedding was in Dallas, Texas, where a Christian father disowned his son for wanting to marry a Hindu girl. He was adamant that the girl convert and the girl did not want to convert. The father had refused to see his son for three months. I gave him a call, gradually we were mitigating his no-way stance to a possibility.
After two weeks of conversation, I casually mentioned to him. I will be invoking the name of Jesus at the start of the ceremony and closing it in the name of Jesus. He could not believe it and asked me if I really meant it and I said, I did. I invited him to the wedding. He came, and did not want to come inside, but was peeking from the door.
When I closed the ceremony, in the name of Jesus, may you be blessed? He dashed in the door, gave me a hug, and then hugs his son and the new daughter-in-law. They really started celebrating. I felt so happy. However, they did not pay the honorarium, nor did they pay for the food I had arranged for them."
Keep up the good work of uniting and bringing happiness into the lives of people. We are all cheerleaders for you. Dr. Mike Ghouse.
(Dr. Mike Ghouse is President of the Center For Pluralism and lives in Washington, D.C. He can reach at (202) 290-3560 (office) and (214) 325-1916 (cell) More about Dr. Ghoue at www.TheGhouseDiary.com )