Dr. Mike Ghouse
Wedding Officiant Licensed in all 50 States since 2009
Washington. D.C.
Mike@Interfaithmarriages.org
Text (214) 325-1916
Best decision ever!
Our most important vendor for our wedding was the officiant because we needed someone that could beautifully
illustrate our interfaith love story. Dr. Mike Ghouse did just that! He brought together our Islamic and Christian faiths in a way our wedding guests were completely blown away by. Both faiths were represented in his sermon and prayers beautifully. Dr. Mike Ghouse was extremely professional in everything he did and was attentive from start to finish. Above all, he was a joy to work and extremely pleasant and positive. We HIGHLY recommend him for any couple searching for an interfaith officiant. He will make your special day memorable for years to come.
Mike was everything we were looking for!
Mike was extremely flexible and accommodating to our needs. He officiated an interfaith (muslim/christian) ceremony and was respectful to both sides of the family. Highly recommend.
Awesome Experience
This was a great experience considering I am Christian and my wife is Muslim and no imam wanted to marry us! We found Dr. Mike through our wedding planner Phoriah Events and the rest is history! Dr. Mike had a couple of sessions with us Brito to the big day and on the big day he was on time and he did great! I highly recommend him!
Grateful to have found Dr. Ghouse
Dr. Ghouse is simply the best – no question about it. Dr. Ghouse is a very experienced (and wise) scholar who understands cultural matters and the value of tailoring his services to his particular audience. He is extremely open to crafting his service to the needs of his client, which is a rare quality but highly valued. And, when it comes to cultural sensitives and so-called "cultural clashes," Dr. Ghouse works his magic to make sure everyone is happy.
I want to thank Dr. Ghouse immensely for making our wedding the best day of our lives. He provided a service that respected the traditional norms that we requested, while also promoting inclusivity and championing the progressive values that we hold most dear in our hearts.
Thank you again, Dr. Ghouse. We are so grateful that we found you.
Arsalan M – married on 07/03/2021
Inclusive and beautiful interfaith ceremony
We had a wonderful and customized Hindu/Muslim ceremony with elements of both cultures and religions. Dr. Ghouse met with us via video chat multiple times before the ceremony to personalize and go over any questions we had. We were able to have the perfect ceremony to join us in marriage and celebrate our love with our closest family and friends. We definitely recommend Interfaith Marriages to provide you with the perfect ceremony.
Married on 11/07/2020.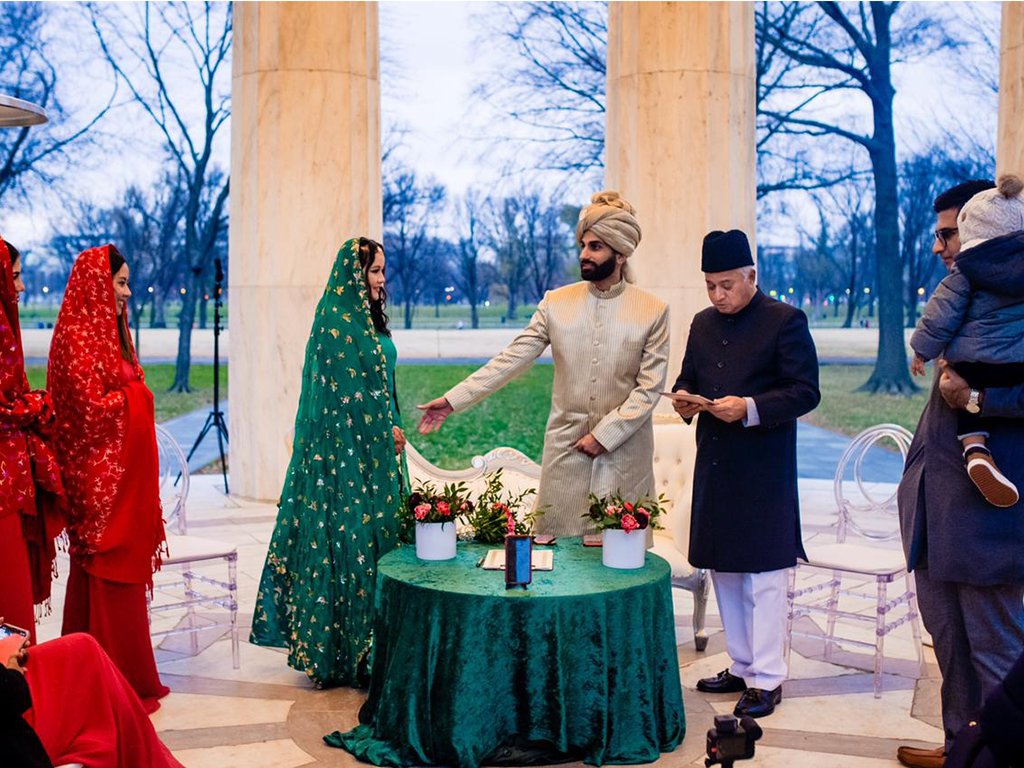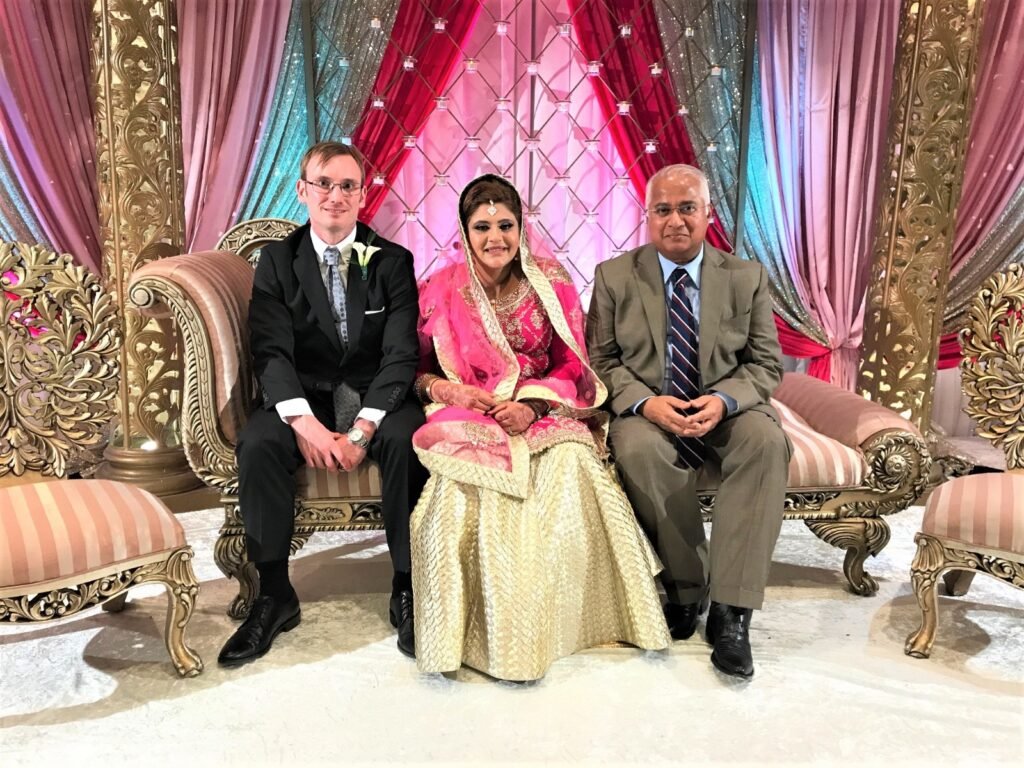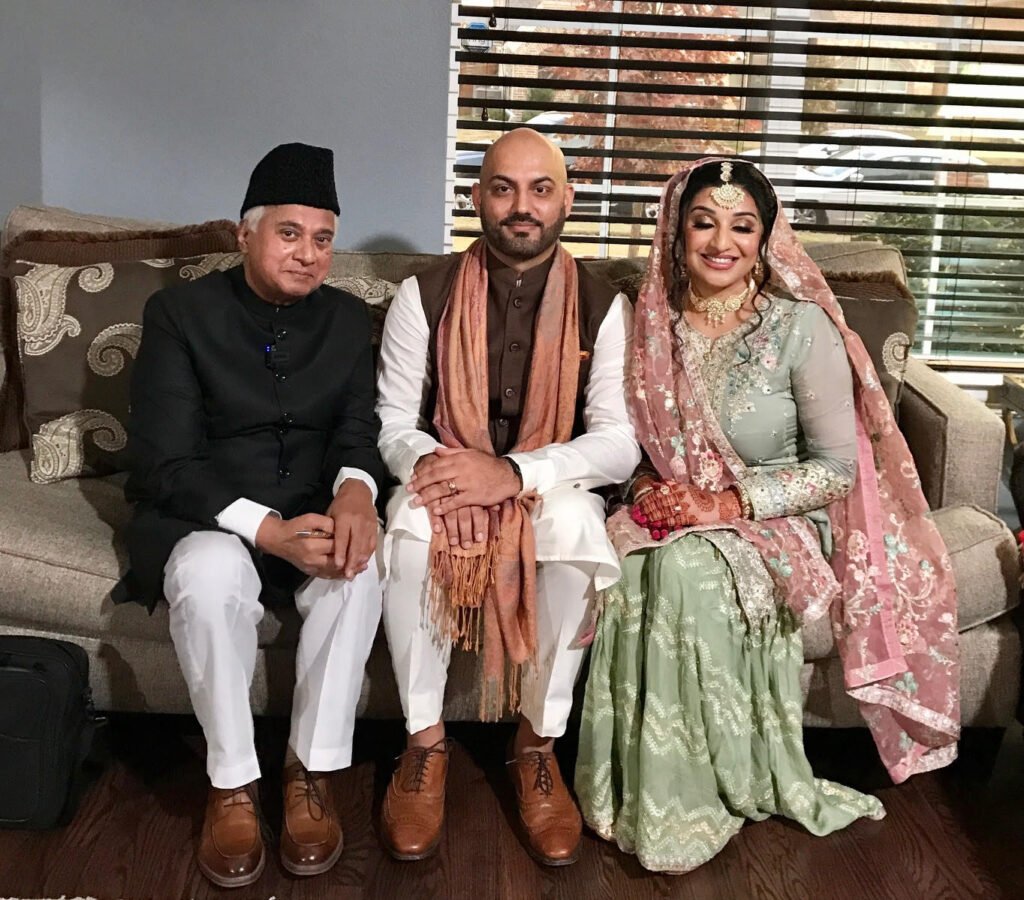 To read different articles, please click the "NEWS" tab above.  A few pictures and two sampler videos are posted below
Dr. Mike Ghouse has officiated religious, secular, and interfaith weddings in every combination with Atheists, Buddhists, Christian, Hindus, Jains, Jewish, Muslims, Sikhs, and others. Since 2010, he has officiated over150 weddings. Mike has also officiated many Muslim-Muslim weddings.
He is licensed in all 50 states of the United States and will travel from Washington DC to any destination. The wedding proceedings include partial to complete sermons from both the Bride and Groom's religious traditions to the extent the couple prefers. If the couple chooses, we will incorporate the parents' customary rituals as well. It is very common with Desi couples. Secular weddings may or may not include invoking the name of God depending on the preference of the couple. You can reach out to Mike through text message Mike Ghouse at (214) 325-1916
Marriage is indeed an expression of a commitment to a relationship between two individuals. The men and women who take the bold step to become one regardless of their origins, faiths, races, cultures, and ethnicities must be appreciated and applauded. They are setting a new standard on how-to live-in harmony despite their given differences. They are practicing genuine pluralism, respecting the otherness of the other, and accepting the given (God/Nature) uniqueness.
Marriage is a union of two individuals for happiness and harmonious living.
Every living organism has a built-in GPS that brings two individuals together, and from a religious perspective, it is the creator who puts love between two individuals. 
 I am blessed to have officiated secular and religious ceremonies of both the couple's traditions with their respective input and final approval. Whether it is Jewish-Christian, Hindu-Christian, Bahai-Jewish, Hindu-Jewish, Atheist-Jain, or other combinations, the Bride and groom and their families feel elated and enjoy the sense of marriage in full.
 Has anyone ever asked what it is that God wants? (or the causer of the universe wants?)
God (or nature if you prefer) wants nothing more than harmony in his (its) creation. Because he created everything in balance he expects us to preserve or restore it when it is off. Marriage not only creates harmony, but it is also patriotic as it lends toward one nation under the blue dome.
The two videos below are samples of the diversity of the wedding ceremonies officiated by Dr. Mike Ghouse
Look at the universe, everything is programmed precisely! The moon revolves around the earth and the earth goes around the sun accurately. The seasons are programmed and the plants and animals have a determined cycle of birth and death. Within the human body, different organs work cohesively for normal functioning (with of course built-in anomalies) of the body. However, he did not program us how to relate to each other and live with each other. He gave us complete freedom to chart our own course of harmony with the other. God is happiest when two people can rise above their differences and live in harmony.
Interfaith marriages are becoming the new norm of society. In a few years, one out of two marriages would be interfaith. Yes, this is across the board, whether you are a Muslim, Jew, Hindu, Christian, Sikh, Baha'i, Atheist, or the other. According to the Pew survey, 40% of people of faiths will be marrying a person of another faith, it is higher among Jews, it's 50%.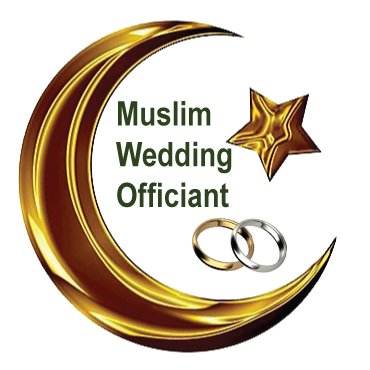 There is a beautiful verse in the Quran, 30:21, "And among His signs is that He created mates for you from among yourselves so that you may find tranquility in them; and He placed between you love and compassion. In these are signs for people who reflect."
Marriage is a union of two individuals for happiness and harmonious living
For details please text
Dr. Mike Ghouse at (214) 325-1916
Washington, DC