Congratulations to the couple, a Christian man and a Hindu woman. This is good news whilst the extremists from among Hindus are making life difficult for interfaith weddings, the good majority of Hindus are very accepting and respecting of other's lives.
Mike Ghouse
Interfaith Wedding Offficant
USA
# # #
Courtesy of Hindustan Times dated 10/15/17
Picking up wet towels, assurance to be a personal jester for life or a promise to celebrate each other's festivals; marriage promises are getting a bit more special
MORE LIFESTYLE Updated: Oct 10, 2017 16:55 IST
Last year, Delhi-based digital marketing professional Jonathan Sreekumaran (30) and Subhashree Das (30), digital manager for a publishing house, made some drastic announcements at Naukuchiatal in Uttarakhand.
"I believe folded clothes make you very happy, and this is very hard for me, but yeah I will fold clothes," said Sreekumaran.
"I see us disagreeing to many things. From why the soap is not in its place, to what should be cooked for the next meal or the million things you are sure to forget. One thing, we will never disagree on is the joy of our shared life, no matter what comes our way," said Das.
Sreekumaran also promised to be Das's personal jester, apart from their general announcement that they wished to marry each other.
"We will celebrate both Lohri and Teej on a large scale," said Barbie Maini to her husband Prabal Agarwal on their wedding in 2016.
Many Indian couples are composing special promises to each other, rather than following templated vows of their traditional wedding ceremonies. The new vows are a step up from "I do", "I do". They're personalised, often funny and go beyond the usual pacts of fidelity and respect. There are promises to not force-feed the spouse protein shakes, to celebrate festivals from the spouses religion (in case of an inter-religious union) and at times, vows to simply accept their partner for what they are.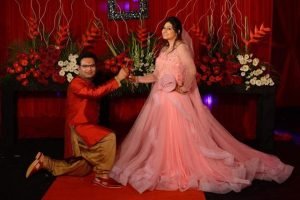 It's personal
For celebrity stylist and editor Karnika Budhiraja, 23, spelling out personalised vows for her fiancé Mohit Kathuria, 29, founder of Fit Look Magazine was the natural thing to do. The two met on Tinder and dated for only four months before they decided to tie the knot. "I really wanted him to make some promises that day as we still did not know that much about each other," Budhiraja says.
Kathuria didn't disappoint her. He promised to be her bodyguard and allow her to sleep until late. On her part, the bride promised to pick up the wet towels he tended to leave around after a shower. After the vows, they proceeded with the mantras.
LEGALLY SPEAKING
Here's where the law stands on wedding vows:
They are not legally binding. So even if your public promise of always folding clothes gets applause at the reception and shares on YouTube, a failure to fold is not grounds for divorce.
Your religious institution may weigh in. In case of marriages not registered officially, if the religious body presiding over a marriage accepts personalised vows then a marriage is official.
For Das and Sreekumaran, however, the customised vows were essential to their interfaith ceremony. He was Christian, she was Hindu. "We did not have a priest or a pastor," Das says. "For the Christian part of the nuptials, we introduced the vows and the absence of the religious institution made our vows free and personal." In the video she was all giggles at Sreekumaran's performance at delivering the vows, now she adds with a hearty laugh, "Not that he is keeping them."
"I promise to pick your wet towels with a smiling face every time you'll keep it on the bed," was Karnika Budhiraja's vow when she got married to Mohit Kathuria in 2016
The urge to do things differently on your big day isn't restricted to couples in big cities. For advocate Barbie Maini (28) and businessman Prabal Agarwal (29) from Pilibhit in Uttar Pradesh, a wedding ceremony had to include public vows that overcame the hurdles of caste and community. The bride was a Punjabi Khatri, the groom was a Bania. They were in a relationship for 11 years before they were finally permitted to marry and they wanted to celebrate their differences. "Lohri is celebrated in a big way among us," says Maini. "In my husband's community, Teej is the biggest festival. On the day we married we promised to celebrate both these festivals."
That young couples are changing the settings on traditional terms of a marriage isn't enough to impress some people. Mumbai-based marriage counsellor, Neha Jain, is one of them. "It is also important to make an effort to keep the vows," she says.
But she lauds the idea of  
personalised vows. "It shows more maturity and awareness in the couple," she points out. 
"Unlike previous generations, when people just plunged into marriages, couples now know much more about each other, which definitely helps them adjust to differences and difficulties that a marriage can throw up eventually."
Clinical psychologist and relationship expert Seema Hingoranny says this attitude reflects what she calls "marital clarity". "It is a very important trait with rising divorce rates these days," she explains.
She points out that making anything personal and specific shows a greater respect for the people involved. It's a step away from a passive acceptance of the conditions that make for a relationship, or going with the flow. "This is significant when we consider traditional marriages even a few years ago," she says. "Though picking up a wet towel is a trifle, to not do it and not acknowledge that cannot be good for a relationship. To admit something like that on the first day of a shared life can definitely ease the journey."
The monotony of the patterns of traditional wedding ceremonies have hardly exhausted anyone more than wedding photographers Merlyn Fernandes (26) and Everol D'souza (29). They've been dating each other for four-and-a-half years and attended over a hundred weddings in their professional capacity. "We wanted ours to be different," says Fernandes who married in December.
They wanted to do away with the raising of the toast. It seemed to them to be too much about a person's achievements and career. "We did not want it to be like a CV reading," started preparing their vows four months before the wedding. And on their special day, this is what D'souza vowed: "You changed my life for the better and now it's my time to return the favour. Although I've tried to change you for the past four years… but no success."